The history of Coumbia UMC goes back to circuit riding preachers around 1810. the Town of Columbia, Founded in 1821, was still in its warly stages of development when a Methodist Preaching House was established in 1832. The church was a one room building located on the present site of Houston County High School. Many circuit riders served this church until 1845 when a full-time pastor was appointed by the Alabama Annual Conference. In January of 1865, the church formally changed its name to Methodist Epispocal Church South. A silver communion goblet has been found bearing this name. The goblet was found in the present church loft after being hidden there for safekeeping during the Civil War. The church was still small but growing with 27 members on roll in 1885. The growing congregation saw a need for the future and purchased a lot of land at the corner of Church and Davis Streets where the current building sits today. The current building was completed in early 1889. The church has continued to grow and prosper over the past hundred years. By 1945, 1164 names had been entered on the church membership rolls. The building was bricked in 1949. In 1956 and 1978 two sunday school and fellowship hall annex additions were completed.
Columbia United Methodist Church has had a rich and colorful 175+ year history. It is our hope and prayer that the bell, a carry-over from the original church, will be able to stand the test of time and continue to call members and friends to God's house for centuries to come.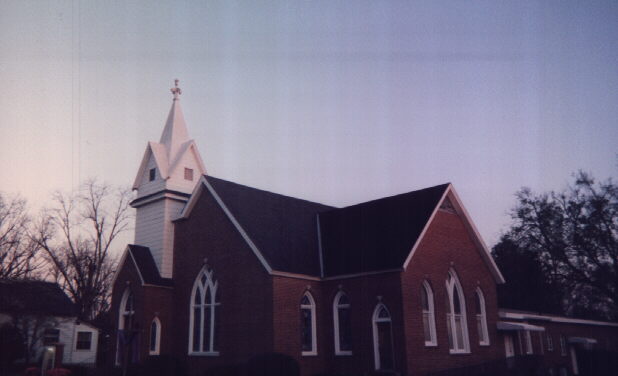 The current church building sits on the Corner of Davis and Church Streets where it was constructed in 1889. We invite you to join us for worship in God's house and help us to continue our rich history.